| | | | |
| --- | --- | --- | --- |
| ORGANISATION DEVELOPMENT | INTERNATIONAL COOPERATION | COMMUNICATION STRATEGIES | MANAGEMENT TRAINING |
>>> Photos from the last exhibition in our old location at "Nordenstrasse 30a" in Frankfurt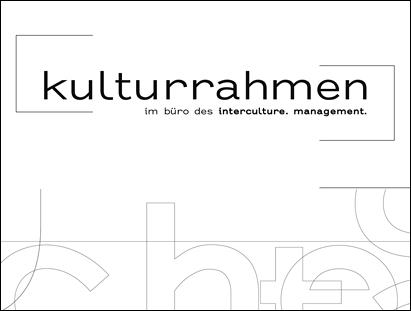 A frame for your art
interculture.management. is a consulting firm in Frankfurt, Germany, offering its office space as a gallery to artists from foreign cultures as a means to create dialogue.
Intercultural exchange
It is our aim to connect with young artists, preferably from the southern hemisphere or eastern Europe, whose art deals with international or intercultural encounters, or those artists that have a personal connection to the subject.
What is possible?
We are open to all ideas, consider us your blank canvas. The only condition is that the work is appropriate for the subject and that it appeals to us.
The exhibition will be a common effort:
The artists will organise the insurance and transport of the art work to the exhibition room at their own
expense. The artist is also responsible for mouonting and installating the art work in the exhibition
room.
Along with the exhibition space, we will also provide access to our mailing list for invitations.
Together we will design an invitation card and share the costs for the vernissage and finissage.
What do we have to offer?
- The exhibition space in Frankfurt Nordend Platz can accommodate between 10 and 20 paintings.
Large formats and even a few sculptures are possible.
- A professional hanging and lighting systems for paintings is available.
- The art work can be exhibited for 6-10 weeks. During this time we can arrange additional events including
readings or concerts.
- Outside of our normal office hours, viewings can be arranged by contacting interculture.management.